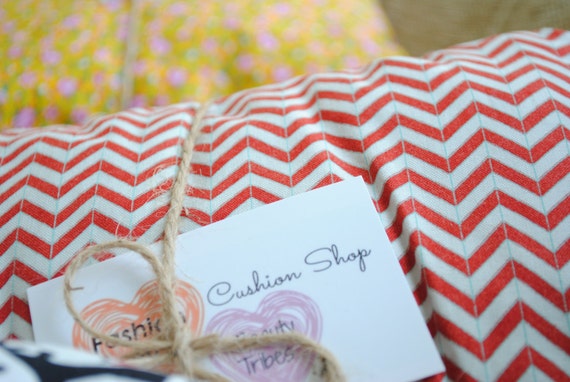 Her Etsy shop sells hand-made cushions (surprise, surprise) in all sorts of designs. Here is my mini interview with her (:
Q. Could you tell us a little bit about yourself and your shop?
Q. Where did you get the inspiration behind your shop? Why cushions?
A. I don't really know I had been making cushions for a while for family and friends and they loved them so I thought maybe I should sell a . I Chose cushions because they are simple to make and instantly make your bedroom look fab.
Q. Why did you choose Etsy?
A. I used to buy a craft magazine that always talked about esty and how it sold homemade goods I thought this was a better platform for my cushions rather than eBay because esty has a real homemade feel to it if that makes sense.
Q. What is your ultimate goal for your shop in the future?
So if you like a lovely hand-made gift, then Sinead's shop is the place for you! She currently only ships within the UK and as she is just starting out, do head on over and take a look --->
here
Which is your favourite design?
--------------------------
Maybe not an addict...as I can live without coffee, but I love it loads :D Caramel Frappucino anyone?
P.S: Please do vote for me for a Missguided competition HERE - it will only take a few seconds and I'll be eternally grateful!
*Note*: this is not a PR, sponsored or paid post. All images from HERE

Keep up with me on:
Bloglovin' //Tumblr // Twitter // Lookbook //Pinterest // Google + //Google Friend Connect